Total Pro Roofing – 4 years in a row – Best of Gwinnett!
This award is announced yearly on Valentines Day as a part of the Love Gwinnett initiative and recognizes companies for their prior year achievements.  We appreciate all who took the time to vote and share  to help us win this Best of Gwinnett Award.  It is because of our fantastic customers that this award was possible.
Total Pro Roofing was featured in a 2 page spread in the 2019 Best of Gwinnett Magazine: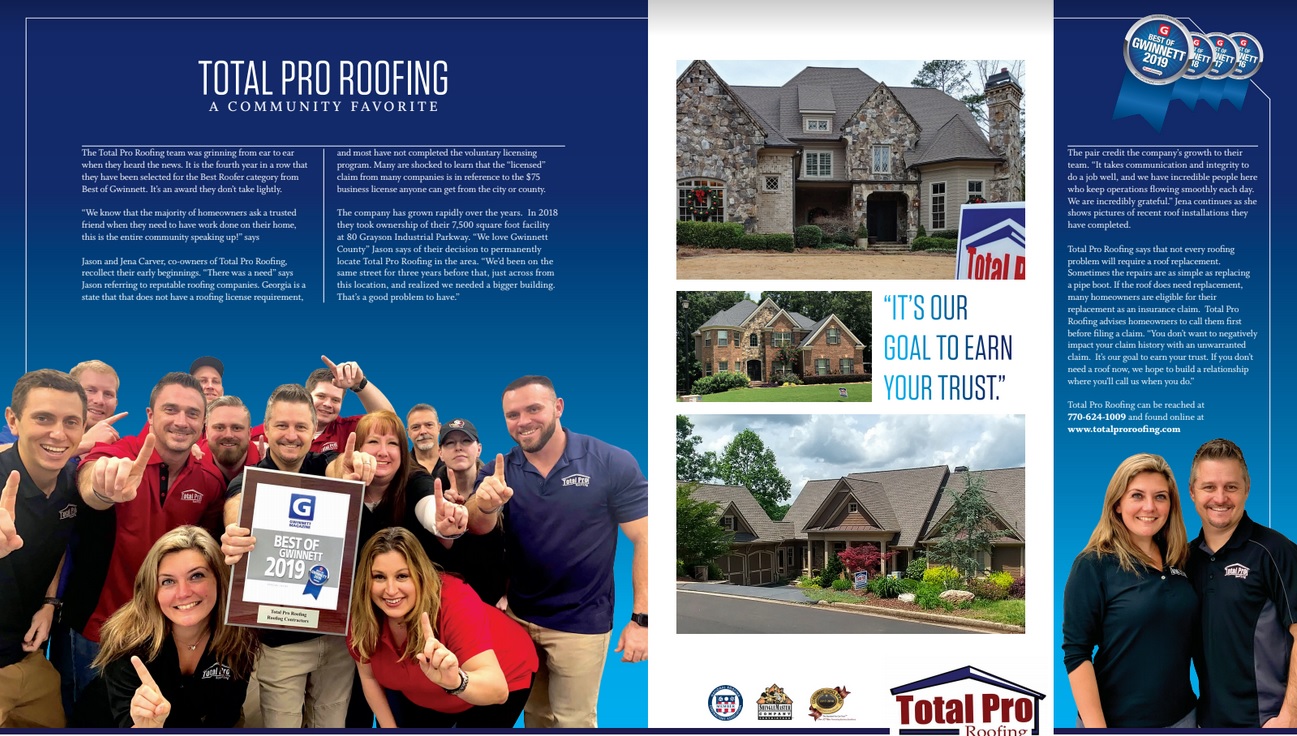 Here is the text from the article on Total Pro Roofing:
The Total Pro Roofing team was grinning from ear to ear when they heard the news.  It is the fourth year in a row that they have been selected for the Best Roofer category from Best of Gwinnett.  It's an award they don't take lightly.

"We know that the majority of homeowners ask a trusted friend when they need to have work done on their home, this is the entire community speaking up!" says Jena Carver.

Jason and Jena Carver, co-owners of Total Pro Roofing, recollect their early beginnings.  "There was a need" says Jason referring to reputable roofing companies.  Georgia is a state that that does not have a roofing license requirement, and most have not completed the voluntary licensing program.  Many are shocked to learn that the "licensed" claim from many companies is in reference to the $75 business license anyone can get from the city or county.

The company has grown rapidly over the years.  In 2018 they took ownership of their 7,500 square foot facility at 80 Grayson Industrial Parkway. "We love Gwinnett County" Jason says of their decision to permanently locate Total Pro Roofing in the area. "We'd been on the same street for three years before that, just across from this location, and realized we needed a bigger building. That's a good problem to have."

The pair credit the company's growth to their team. "It takes communication and integrity to do a job well, and we have incredible people here who keep operations flowing smoothly each day.  We are incredibly grateful." Jena continues as she shows pictures of recent roof installations they have completed.

Total Pro Roofing says that not every roofing problem will require a roof replacement. Sometimes the repairs are as simple as replacing a pipe boot.  If the roof does need replacement, many homeowners are eligible for their replacement as an insurance claim.  Total Pro Roofing advises homeowners to call them first before filing a claim.  "You don't want to negatively impact your claim history with an unwarranted claim.  It's our goal to earn your trust.  If you don't need a roof now, we hope to build a relationship where you'll call us when you do."

Total Pro Roofing can be reached at 770-624-1009 and found online at www.totalproroofing.com
Every year, the Best of Gwinnett winners are recognized in the Best of Gwinnett publication.  You can learn more about Guide to Gwinnett, Love Gwinnett, and Best of Gwinnett by clicking HERE.