Did you see the article about Total Pro Roofing in the 2019 Gwinnett Magazine?
We are so proud to win the Best of Gwinnett award for Gwinnett Roofer the third year in a row! (Awards are announced each February for the prior year.) This designation is determined by online voting over the course of several months.
Thank you to all who voted. We appreciate each and every one of our customers selecting us as their Gwinnett Roofer!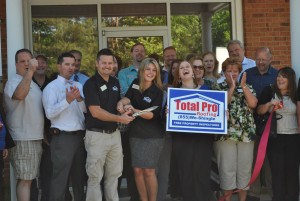 Planning a wedding and starting a new life together is
stressful enough for any couple. Now throw in the part where
she quits her full-time job and together they start a roofing
company. That's Jason and Jena Carver's story, the Georgia
natives who gravitated toward Gwinnett County to, in their
words, "make a difference in the roofing industry."
"There weren't as many (roofing companies) as when we first
started," says Jena. But the last five years have seen an
increase in the competition ––with good reason.
"The different storms that roll through here in the spring and
the summertime," explains Jason. "High winds, hailstorms
that really damage roofs. There was a need." Not only that,

but all those houses that contributed to Gwinnett's tremen-
dous growth are aging, and their old roofs are in need

of replacement.
But when others are chasing those same opportunities, the
field becomes crowded with more roofers. However, more
choice isn't necessarily a good thing.
"There's a lot more that have started, and a lot more that
have failed," says Jena, who adds, "We've seen companies
come and go and we're doing their repair work because of the
quality."
Shopping for someone to repair a roof can be a daunting task
unless a customer knows what they're looking for. So Jena
and Jason make a point on their web site of educating their
potential customers with everything one needs to know about
what to look for in choosing a roofer. Did you know, for
instance, that when a roofer claims to have a license, it could

very well just be a $50 business license? There is no require-
ment that roofers have a roofing license in Georgia––a

program is in the works––but the Carvers have taken the
extra step of getting one voluntarily.

"We don't ask for any money up front. We do the work and
then we get paid," says Jason. "There are so many horror
stories of homeowners giving that first check, and there goes
the roofing company. And that's horrible."
Knowing that that's in the back of the mind of potential
customers, Total Pro Roofing goes above and beyond in
repairing not just roofs, but siding, gutters, and interior
damage to restore what for most everyone, is their biggest
investment.
There is one group of consumers, military veterans, who have
made an even bigger investment––putting their lives on the
line in defense of freedom. But coming home isn't always
easy. Families have needs and things break. To aid in the
transition, the Carvers instituted their Free Roofs for Troops
program, which is just what it sounds like.
It's a needs-based program that vets apply for and, if
selected, get a free roof courtesy of Total Pro Roofing. Jason
recalls one of those vets, injured in a bomb blast with the
scars to show for it. His roof was falling apart but an

unscrupulous roofer took his money and ran. He was heart-
broken. To his and his wife's amazement, Total Pro Roofing

replaced the roof at no cost whatsoever.
"Even if we can only do one or two a year," says Jason, "That's
worth every penny because it changes someone's life completely."
You can learn more about Best of Gwinnett and Gwinnett Magazine by visiting: https://www.guidetogwinnett.com/