Total Pro Roofing would like to thank Warrior Battalion for their past assistance screening applications.  These free replacements or free repairs below went to Veteran or Service Members living in or near Gwinnett County, GA.  It is through your referrals that it has been possible to give back!
Save
Meet some of our recipients made possible by your referrals and business:
Veteran SPC Ryan Watkins, Sr. of Conyers, GA, received a free roof on Monday, November 1, 2021.
"The (Total Pro) team has been so easy to work with and I am thankful for the security of a new roof before a cold winter spell," said Watkins. 
Watkins served as a mechanic in the U.S. Army and was deployed during both Desert Shield and Desert Storm. During his tenure he received several medals and honors for his service. Watkins now gives back to his community by helping facilitate the weekly food drive at his local church, Berean Christian Church in Conyers and surrounding campus'. 
Johnnie Landers, Avionics Electrician Third Class, Buford, GA received his new roof on July 1, 2020.  The Lander's roof was in need of replacement due to issues from the roof line at a past addition, aging shingles, and deteriorating decking.  We were honored to help.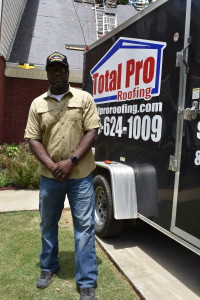 SPC Charles Mathis, Snellville, GA – June 2018 recipient of a free roof replacement to lifetime architectural shingles.  He had to wait 3 weeks longer than anticipated due to an extremely unpredictible storm system over our area, but when the rain finally left, it was a beautiful day for a new roof.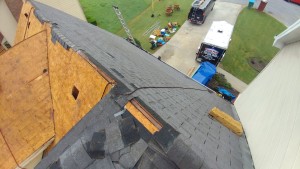 SPC Charles Mathis served in Operation Desert Storm.  These conditions meant 140 degree temperatures, chemical attacks, air strikes, artillery raids, loss of life, and EPW (Enemy Prisoner of War) that included children under the age of 12 forced to fight under the leadership of Iraqi President Saddam Hussein. The aftermath of serving in such a hostile environment has had a lasting impact
on our service men and women like SPC Mathis.
Link to Gwinnett Daily Post article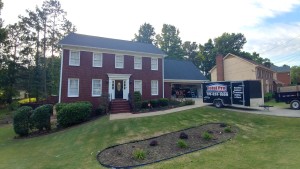 Save
Sgt. Thomas Mitchell Owens, Doraville, GA – 2016 recipient of a free roof replacement, gutters, and pressure washing.  He says this of his 21 years of military service:
My simple truth is that I'm a survivor of one of the worst rocket attacks that killed
30 brave men, and wounded the remainder of 65 troops huddled together in a
shelter on 21 May 1971. I somehow was able to shelter in place away from any
direct hit.
Life hasn't gone easy as I had my third and final enlistment at 55 years of age for
which I completed 100% of basic training alongside other enlisted.
Everything began at age 17, when I volunteered to serve in Vietnam, and give
my best for country and those I served next to for so many years. This financial
help is indeed a blessing, and I often reach out to help other Vets whenever I'm
able. Thank you very much!

 
Save
Staff Sargeant Danny Pagan, Stone Mountain, GA – One of our 2017 Recipients of a free roof and gutters. Danny Pagan received an honorable discharge after 5 overseas deployments and surviving a bomb that rendered him unable to live a normal life. Furthermore, he has twice been taken advantage of by contractors who took his money and never did repairs on his home. Total Pro Roofing put an end to the cycle of dishonest contractors.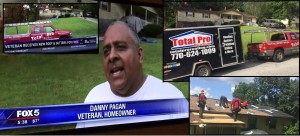 Save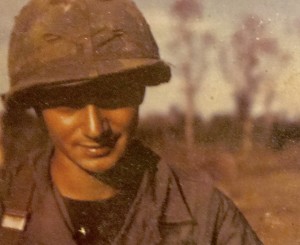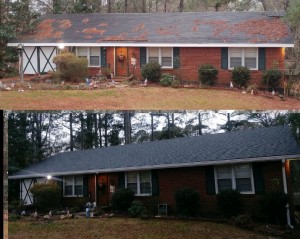 We honored Sgt Thomas Joseph's family on December 21, 2017 in Covington, GA with a full roof and gutters.   Sgt Thomas Joseph served his entire tour in the jungles of Vietnam.  Suffering with PTSD and exposure to Agent Orange that resulted in larynx cancer, he later had a tracheotomy that left him unable to communicate with his special needs daughter.  SGT Joseph passed away Christmas morning 2013 in his wife's arms. We hope that our Christmastime gift to this family will bring warmth back to their holidays.
Save
We would like to thank Fox 5 Atlanta, 11 Alive, and CBS46 for airing information about our program. (See below video from Fox 5.)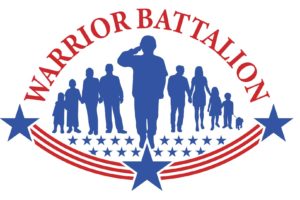 "If we can help, we do. We aren't just here to put on new roofs, we are here to impact lives."  – Jason Carver (Owner, Total Pro Roofing)
We extend our gratitude to Warrior Battalion for their assistance in helping us screen applications. Please visit their website at:  www.WarriorBattalion.org  
Save
Save
Save
Save
Save
Save
Save
Save
Save
Save
Save
Save
Save
Save
Save
Save
Save
Save
Save