Total Pro Roofing is thrilled to announce our status as a SELECT ShingleMaster company. This status is described by CertainTeed as being in the top 1%. This recognition means that advanced warranty options are available from the manufacturer, including the coveted Workmanship Warranty 25 years. Any roofing company can promise a warranty for X number of years, but selecting this upgraded warranty means it is guaranteed by the manufacturer. It's the ultimate in consumer protection.

There is a list of requirements to become a SELECT ShingleMaster with Certainteed which includes:
Credentialing of at least 50% of all installers and all supervisors as Master Shingle Applicators.
Business ownership completing CertainTeed's Business Fiscal responsibility Exam.
Insurance requirements and yearly review of renewal.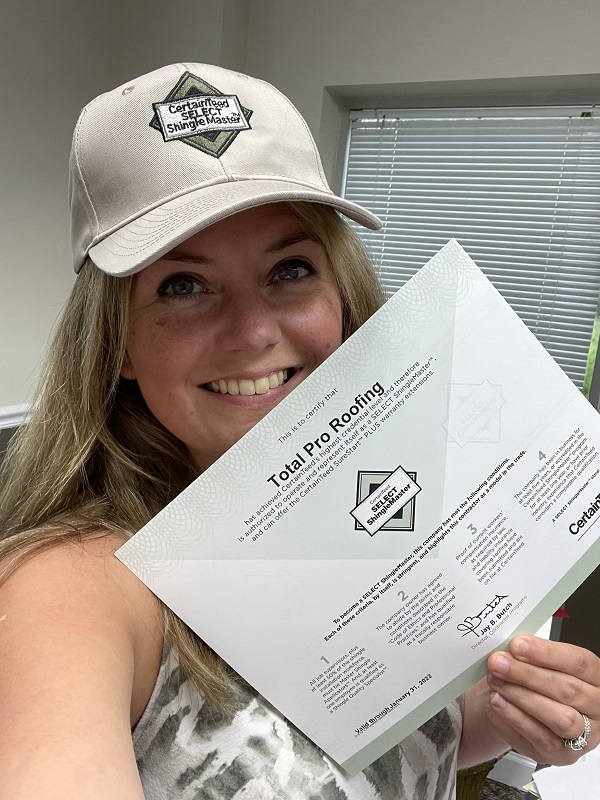 While our preferred brand is CertainTeed, we install all manufacturers upon request. Total Pro Roofing has a fantastic relationship with CertainTeed and have seen them honor their warranty firsthand. This speaks volumes!
By default, CertainTeed's SureStart limited warranty covers the first 10 years of their shingles before proration begins. Upgraded options include:
3 Star: Increases to 20 years non-prorated (prorated in years 21-40), materials and labor.
4 Star: Increases to Lifetime non-prorated, materials, labor, and disposal.
5 Star: Lifetime PLUS a 25 year workmanship warranty.
You can learn more about the available warranty options, and what Total Pro Roofing includes by default, with a quick overview at: https://totalproroofing.com/total-pro-roofing-warranty/
For the fine print and the final word on CertainTeed's SureStart warranty information, please visit: https://www.certainteed.com/resources/SureStartWarranty.pdf
General information on CertainTeed's limited warranty for their roofing products can be found at this link and updates yearly: https://www.certainteed.com/resources/2021AsphaltWarranty_CTR20-20-3821_2101_E.pdf