Insight: Roofing Technology is Changing the Roofing Industry – FOR THE BETTER!
Total Pro Roofing is proud grow with the available roofing technology.  The results are a more efficient process, increased safety, and less risk.
Drones may be the next "it" thing, but human power is still needed for much of our work.  A trained eye is necessary to properly diagnose most roofing issues and there aren't any robots that install shingles, yet!
So where does roofing technology come in then?
Measurements: We are able to reduce risk by utilizing software that provides satellite measurements of your roof. These reports ensure accuracy which translates to the best possibly pricing for you, quicker estimates too! Did you know, if a roofer doesn't have accurate measurements, they are more likely to overcharge so that they don't run the risk of losing their necessary profit margin? Small errors can add up into big bucks quickly!
Pricing: Total Pro Roofing stays on top of market trends by utilizing Xactimate software. This is the same software used by the insurance industry that pulls pricing from extensive market research. A great benefit especially for those who call us as a result of an insurance claim to their roof. It moves the process along that much quicker.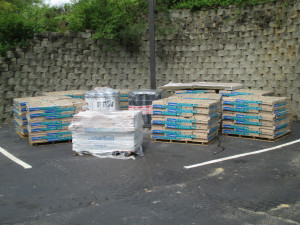 Materials: In the past, 20 year 3tab shingles were the norm. Today, the new standard for 3tab shingles is 25 years as a minimum. While 20 year 3tab shingles are still available, the cost difference is nominal and something we don't recommend. The majority of our clients opt to upgrade to Architectural shingles, not only for the low price difference, but also for the lifetime rating on them. (Depending on the shingle, this can mean as much as a 50 year life expectancy.) Underlayments have advanced too and there are more options than just 15# and 30# felt now. Synthetics are lighter and more durable, a huge asset for the larger jobs especially that might run the risk of overnight exposure. Valley Metal, while still available, has now been replaced with an ice & water shield product. This membrane is much preferred by roofers.
Administration: There are many other ways that roofing benefits from technology. From the ease in transmitting documentation and digital photos, to weather tracking software and storm dating, the whole process has a quicker turnaround time. Our crews are able to focus on what they do best – the actual installation which means you get your home restored even sooner.
Atlanta roofing, roofing technology, leak repair