Did you know that there is no official Georgia Roofing License? Yikes!  There is good news though:  The RSMCA (Roofing and Sheet Metal Contractors Association of Georgia) is leading the way to change with their voluntary licensing program. Total Pro Roofing is proud to be an early adopter and has obtained the "Low and Steep Slope" designation.
"Licensed and Insured"
You see it every day on roofing trucks that pass by and on their websites: "Licensed and Insured".  It sounds great, but that "license" probably isn't what you think they are talking about.   Many specialty trade contractors hide behind that phrase to make it seem like they have qualifications that they don't have.  If you ask to see a copy of the roofing license, you will probably be presented with their business license.  If you have never obtained a business license before, it is as simple as walking into city hall to fill out a short application and to pay a fee.  Certainly not the technical type of construction license many homeowners assume!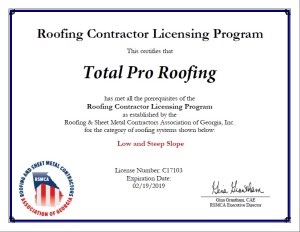 When you consider that your roof protects all the contents of your home or business, it is a pretty big deal that someone can just install a roof with no type of oversight or knowledge check.  It also makes it that much more difficult for a property owner to discern among quotes for quality workmanship, business reputation, insurance, and financial ability. A licensing program serves to screen companies for these things.
Proposed Legislation Wants to Protect Consumers
The Georgia HB 301 summary lists the real risk bluntly: "This bill is intended to protect Georgia homeowners and businesses, who are regularly victimized by "fly-by-night" roofers.  Often from our neighboring states, all of which have strict licensing requirements, they come to Georgia because our lack of regulation allows them to prey on the unwary.  After every natural disaster in our  state,  whether  a  hurricane  on  the  coast  or  the  recent  destructive  tornado  in  Adairsville,  unqualified  roofers  descend  on  Georgia  to  take  advantage  of  the  victims,  making  easy  money  doing  shoddy  work,  or  taking  deposits  and  doing  no  work  at  all.    Like  our  surrounding  states,  it  is  time  Georgia  stopped  these  unscrupulous  operators  by  imposing  the  same  type  of  licensing  we  require  of  plumbers, electricians, contractors, and other construction trades."
21 States Already have Roofing Licensing Requirements
Needless to say, there has been a push among reputable companies to bring a Georgia roofing license to the state.  They want to join the following 21 states that already have licensing requirements: Alabama, Alaska, Arizona, Arkansas, California, Florida, Hawaii, Idaho, Illinois, Louisiana, Massachusetts, Michigan, Minnesota, Mississippi, Nevada, New Mexico, North Carolina*, Rhode Island, South Carolina, Utah, and Virginia. (*Only for roofing jobs worth more than $30,000).  Source: National Association of State Contractors Licensing Agencies.
Georgia Roofing Voluntary Licensing Program
The Roofing and Sheet Metal Contractors Association of Georgia has established a voluntary licensing program.  Their website states: "The RSMCA Georgia Licensed Roofing Contractor program was developed to increase consumer protection and secure the public confidence in the roofing industry by elevating the roofing contractor's knowledge, skills and professionalism through voluntary self-regulation."  A roofing contractor can obtain licenses for low slope, steep slope, or both categories combined.  It also serves to qualify contractors for financial ability, proper insurance, business licenses, withholding and employer identification numbers, and references.  You can learn more about this voluntary program here: https://www.rsmca.org/page-1221326
Total Pro Roofing would like to issue the challenge to fellow Georgia roofing companies: Lets join together in elevating our industry and showing our client base this is a trade they can be confident in.   Join us in obtaining your Georgia roofing license.
Learn more with the following resources:
Georgia Roofing "Specialty Trade" exemption.    Link:  http://sos.ga.gov/index.php/licensing/plb/46/exempt_specialty_contractors.   You can reference "shingles and shakes" listed on the attached document which also names a variety of other trades that are exempt: http://sos.ga.gov/admin/files/49_TraditionalSpecialtyContractors.pdf
For those interested in reading more about state licensing attempts with Georgia House Bill 301, information can be found here:   Summary:  https://www.rsmca.org/Resources/Documents/RSMCA%20HB%20301%20-%20Roofing%20Contractor%20Licensing%20-%20Bullet%20Points%202013.pdf Full text: https://opb.georgia.gov/sites/opb.georgia.gov/files/related_files/site_page/HB%20301%20Final%20Combined%20%28PUBLISHED%29.pdf