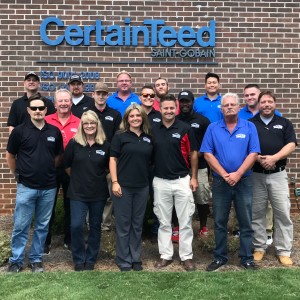 Last Week, we spent a day meeting at CertainTeed's Peachtree City manufacturing plant.  (We are fortunate to have this facility close to home in the Atlanta area.)  Before the CertainTeed plant tour started, we sat in on a presentation about the plant, safety procedures, and how the shingles are produced.  And yes, it meant we got to don protective hats, ear plugs, and safety glasses.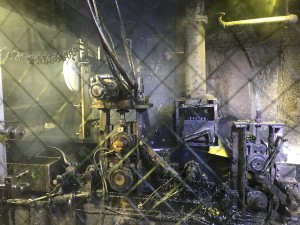 Walking through their facility, we were impressed with their efficiency.  Pallets upon pallets of shingles set ready for distribution to regional suppliers.  They don't produce every color at this location, but their supply chain means that they still house additional SKU's to best serve the industry that calls on them.  We watched as the shingle base (a white fiber glass material) was threaded into the process.  A solid line of material snaked through the plant receiving hot asphalt applications, colored granules, and everything that makes the shingle what it is.  At the very end of the line, the shingles were cut and a machine stacked and sorted them into packaging.  The best part is that they are made right here in the USA.
Obviously, there are many, many details I'm not including here today, like how they track their batches for warranty servicing, or that they treated us to a great lunch too. What I do want to stress is how we have a great relationship with our supply chain.  It means we are can better service our clients too, and we've put it to the test.  It meant a seamless process recently when a homeowner had an irregularity on some installed shingles, and CertainTeed stood behind their product quickly honoring their manufacturer's warranty.  It doesn't get better than that.
-Jena Carver (Administrative Director)
Want to learn even more about the shingle manufacturing process?  Check out this video below from CertainTeed's channel:
Save
Save